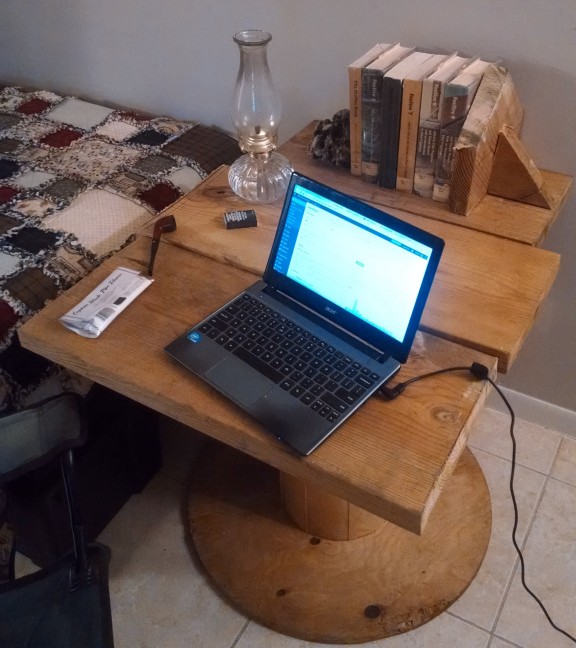 What does it mean to "make it" or to "make it big?"
Is it driving a Rolls-Royce car?
Is it getting your face on the cover of Rolling Stone magazine?
Is it putting up a 405lb bench press?
Is it retiring early?
Is it becoming your own boss?
Not for the Christian. Paul writes:
But whatever gain I had, I counted as loss for the sake of Christ. Indeed, I count everything as loss because of the surpassing worth of knowing Christ Jesus my Lord. For his sake I have suffered the loss of all things and count them as rubbish*, in order that I may gain Christ and be found in him, not having a righteousness of my own that comes from the law, but that which comes through faith in Christ, the righteousness from God that depends on faith— that I may know him and the power of his resurrection, and may share his sufferings, becoming like him in his death, that by any means possible I may attain the resurrection from the dead. –Philipians 3:7-11 (ESV)
Now, if we were to stop here, it would seem that Paul is saying that attaining the resurrection from the dead is "making it big." This is a common misconception. But the resurrection is not the prize, it is simply a step to be traversed in the continual pursuit of the prize.
Not that I have already obtained this or am already perfect, but I press on to make it my own, because Christ Jesus has made me his own. Brothers, I do not consider that I have made it my own. But one thing I do: forgetting what lies behind and straining forward to what lies ahead, I press on toward the goal for the prize of the upward call of God in Christ Jesus. Let those of us who are mature think this way, and if in anything you think otherwise, God will reveal that also to you. Only let us hold true to what we have attained. –Philipians 3:12-16 (ESV)
The prize is the call. Thus, the prize can be had right now–but cannot be grasped. It is ours as long as we pursue it, and yet is lost as soon as we turn from its pursuit. In this way, the call of God can be compared to the lesser calls of the wild, the sea, the mountains, and The Northland. I have felt all these calls. None of them disappear when you chase them. The call of the sea only gets stronger the more nights you spend on deck looking out over the empty ocean and the sky full of far more stars than can be seen even in the wilds of Montana. The call of the mountains get stronger the more nights you spend in a lean-to listening to the wolves howl and the streams murmur. Like these lesser calls, the call of God gets only stronger as you seek to assuage it–and yet, like the lesser calls, the call itself brings comfort despite not being diminished.
There is another way in which the call of God can be compared to these lesser calls. In the words of Oswald Chambers,
The call of God is like the call of the sea— no one hears it except the person who has the nature of the sea in him. —My Utmost for His Highest, entry for 05 Aug
In order to hear the call of God, we must be participators in the divine nature, i.e., we must have the nature of God within us. This can only happen through the quickening of God's spirit dwelling within us.
To follow any call requires one to be willing to walk away from what he has.
Consider Jack London's description of the call of the wild:
Deep in the forest a call was sounding, and as often as he heard this call, mysteriously thrilling and luring, he felt compelled to turn his back upon the fire and the beaten earth around it, and to plunge into the forest, and on and on, he knew not where or why; nor did he wonder where or why, the call sounding imperiously, deep in the forest. —The Call of the Wild, Chapter 6
To follow any call is to turn one's back on something else. Yet, sadly, rock artists understand this better than Christians. Look again at the lyrics to the song at the beginning of the post.
Dylan sings for millions And I just sing for free .. Well I paint my face with glitter Just like Bowie does And I wear the same mascara That Mick Jagger does

–"Everybody's making it big but me" written by Shel Silverstein and performed by Dr. Hook
Musicians aren't afraid to look ridiculous in order to follow the call of fame and fortune, but are Christians willing to look ridiculous to follow the call of God? More than that, are Christians willing to even consider making the financial sacrifices that aspiring musicians make? When I was in college, I ran sound for a Christian rock band for a while, and toured across the country. I met a lot of aspiring musicians, and almost all of them had made major sacrifices to follow the call of playing music for a living. Yet the idea in the church seems to be that one can follow the call of God without turning his back on "the fire and the beaten earth around it."
You can't.
Now the fire and beaten earth can stand for many things in your life. Whatever they are, they are comfortable, they are inviting, they are familiar, and they are holding you back from following the call of God. And whatever else they are, they probably include material possessions. There may well be other things that are the fire and beaten earth in your life, but more likely then not, to paraphrase Fight Club's Tyler Durden, the things you own have ended up owning you.
Jesus understood the trap of possessions. That's why he commanded his flock to get rid of them. It's why he told the rich young ruler to sell all that he had. Jesus observed that a man would joyfully sell all that he owned to gain ephemeral pelf, yet when the ruler was offered the opportunity to make the same sacrifice for a much more amaranthine guerdon, he went away sorrowful.
Now, I'm sure some intrepid reader will point out that a man has a scriptural responsibility to provide for his household, and that to shirk this responsibility is to deny the faith. The reader is correct in his observation. However, this does not provide a licence for unrestricted accumulation. Your responsibility to provide does not mean that you must have new cars, a large house, cable TV (or even a television). It does not even mean that you have to have a washing machine–certainly the fathers to whom that passage was originally written did not provide their families with such appliances.
I'm not trying to argue that there is anything wrong with owning a few household appliances such as a washing machine. What I am saying is that the imperative to provide does not excuse excess. Consider your life, your belongings–Does Luke 12:32-33 make you uncomfortable? Are material possessions the fire and beaten earth that are keeping you from following the call of God?
To follow any call requires one to turn his back on something.
Live small.
Follow the call.
Make it big.
But Jesus told him, "Anyone who puts a hand to the plow and then looks back is not fit for the Kingdom of God." —Luke 9:62 (NLT)
*See study here or by clicking above