Note: This guest post was written by Ian Brewer, a friend of mine and fellow parishioner at Saint Ignatius of Antioch Orthodox Christian Church in Fitchburg, Wisconsin.
In the summer of 2010, I did the same thing I had done every summer I could remember. I spent a month at my grandma's house in Western Pennsylvania. I helped her around the house, mowed the lawn, caught frogs, and attended her local Seventh-Day Adventist church every Sabbath like I had every summer before that one. I had just graduated from my Adventist high school and this stay at my grandma's was the first time she worried aloud that I wouldn't be able to visit her in subsequent summers—a worry she had occasion to voice for years to come.
While I was enjoying myself in PA, several thousand of my soon-to-be classmates were undergoing orientation for their first semester at USC Columbia. Because of my traditional visit to my grandma, I elected to wait for the last orientation date of the summer.
Like I said, I had just graduated from an Adventist high school. This was after attending an Adventist grade school since kindergarten. I was a Pathfinder (an Adventist Boy Scout, in simple terms), I went to Adventist summer camp, I attended large conferences of SDAs in the Carolinas, and I had been to more "Daniel and Revelation" seminars than I care to count. Suffice it to say, I was deeply Adventist. My friends, family, teachers, and a vast majority even of my acquaintances were all Adventist. I was fourth-generation Adventist on both sides of my family. For a church founded in 1863, that's a lot (though, some readers will be understandably unimpressed by this number).
Most of my friends were preparing to attend Adventist universities, with the bulk of them going to Southern Adventist University and others enrolling at Andrews University. Some readers will know that Adventist universities are extremely expensive. My parents had just spent the last thirteen years paying tuition to SDA schools and, for most of that time, for all their three children—no small sacrifice. They had done their part. College was up to me. I elected to pursue a less costly option.
Signing up for classes for my first semester of university was mostly an exercise in fulfilling generic degree requirements. Since I had waited so late into the summer to sign up, most classes were full. I checked for classes in the Religious Studies department and found what appeared to be the perfect class for me, so learned in theology. I signed up for Religion 110: Intro to World Religions, a Tuesday-Thursday class meeting at 2:00 PM (this fulfilled an important criterion of mine: to never wake up early). The class was taught by Professor James Cutsinger, whom I would find out was an Orthodox Christian.
Religion 110 was an experience unlike any other for me. Every week, I read about the great traditions of the world and the stories of their saints. I listened to lectures delivered by a man who took them seriously on their own terms. This was the first time I had heard other traditions than my own spoken of in a way other than to cover their most basic elements and to explain why those basics were clearly incorrect. A few weeks into the semester, I declared my minor as Religious Studies.
Truly, I ended up minoring in James. I took every class from him that I could. One of these classes was Religion 332: Christian Theology. My brother and I took this class together. Knowing Orthodoxy best and having no qualms about professing Orthodoxy to be the fullness of the Christian faith, James taught Orthodox theology in his classroom. It soon became clear to me that I had never heard theology before. Rather, I had been taught an extensive list of doctrines and some snappy proof-texts to back them up. I found theology far more engaging. I learned about the heresies that prompted the seven Ecumenical Councils, the relationship of humanity and divinity, the nature of inspiration and revelation, creation ex nihilo, theodicy, theories of atonement, and eschatology among many topics.
During one lecture, probably regarding beliefs about the End Times, my brother and I had the opportunity to discuss and explain our beliefs as Adventists to James and the rest of the class. My family was very proud of us for being unashamed of our beliefs and being open about them. This scene would be curiously mirrored a few years later.
At the end of that semester, I was an Adventist. However, I was now an Adventist whose eyebrows often shot up or furrowed during sermons I heard from my home church's pulpit. You see, I began to realize that my pastors knew very little theology, even less about church history, and were prone to making misleading statements or declaring plain untruths. I didn't blame them; I was simply surprised that one could make it out of seminary in that state.
I don't mean to sound superior. I am ashamed to say that I probably felt that way at the time. Certainly, I had never received that example from James. He was always attentive, kind, and polite. I may have maintained the appearance of that attitude on the outside, but I'm sure I was prideful in my heart.
I carried on in roughly that same state for a few years. I graduated from USC and left the South to pursue an MBA in Akron, OH. I stopped attending church regularly. I was dating a girl who was not a churchgoer herself at the time and my visits to my grandma were the only times that I attended an Adventist church. I still considered myself an Adventist. I kept the Sabbath, I kept the dietary rules, and my beliefs were mostly unchanged. However, something had changed. My practice of my faith felt empty and my questions went unanswered.
I remember one day at work as a graduate assistant I was particularly unbusy. I had nothing better to do—though I didn't know how true that was at the time—and some questions began to insistently run through my mind. I started looking for answers to those questions and happened upon a Catholic website where many questions were catalogued and addressed. As it turned out, they had heard of SDAs and addressed their objections to Catholic doctrine. Since my questions were mostly broad issues with worship on Sunday, the "state of the dead," the use of images in worship, scripture and tradition, etc., there wasn't any divergence in their answers from what Orthodox Christians would say.
After a few days, I was convinced that I had been wrong. I won't go into the specifics because I don't care to argue or seek to prove anything. I am convinced that the prompting of the Holy Spirit is the only basis for a change of this kind. Not only did I believe I had been wrong, but I thought there was an extremely good chance that James had been right about everything he ever said to me and that his church could truly provide me with the best tools to take on the likeness of God. While this was great news, it was also terrifying because it meant I had to do something. I couldn't just sit around being a non-churchgoing, nominal Adventist with some wacky ideas.
It's very important to me that I impress upon you that my conversion was not a simple matter of discarding a set of beliefs I found to be incorrect and adopting others that I decided were correct. My relationship with James had an enormous impact on me and it wasn't exclusively intellectual. He was a role model. He lived a life of humility while very obviously possessing a holiness I hadn't encountered before. He was disciplined, creative, kind, and loving. He also held me to a very high standard. Knowing that Jesus instructed us to judge a tree by its fruit made it impossible to avoid speculating on what sort of tree could have produced him. When I reached that point in my life, it was natural for me to reach out to him first for guidance.
After speaking to James, a week later, on Tuesday, June 2, 2015 I dropped by the local Greek Orthodox church in downtown Akron. I had no idea if anyone would be there. Providentially, I believe, there was a parish council meeting or something like that going on at the time. A very confused secretary answered the doorbell and introduced me to Father Jerry Hall. Fr. Jerry was perplexed and taken aback by my sudden appearance, wishing to speak to him about his church, but he was very welcoming and toured the church with me for an hour or so. I came back on Sunday and accidentally sat with his family. His wife showed me the liturgy book and helped me figure out what was going on. As much as I knew about theology already, I knew next to nothing about practice.
No doubt, my catechesis was odd. I had already decided to convert before I ever stepped foot inside an Orthodox church. I began meeting one-on-one with Fr. Jerry every week on Thursday to discuss the Church and my place in it. Despite my unfamiliarity with it, the Divine Liturgy (the central service of Orthodox worship) felt like home. The music, the icons, the vestments, the candles, the incense. Everywhere I looked, touched, smelled, tasted, and heard threads connecting me to and drawing me toward Jesus Christ.
After a couple of months, I faced my next big challenge. I had to tell my family what I had decided. They came up North to visit my grandma in mid-August and stayed for a week. Not long before they arrived, I called my brother and explained to him what was going on with me and my conversion. He knew my journey best and I needed someone to stand with me when I faced my family. He understood and agreed. One night, I called my family together in my grandma's living room and stood in front of them with my brother and explained to them that I was no longer Adventist and I intended to join the Orthodox Church. They were all surprised and confused, but beyond that their reactions varied. Thankfully, no one was angry or condemnatory toward me. My dad was quiet. My mom was inquisitive. My sister was perplexed, but unconcerned. My grandma was quietly horror-stricken.
Though I know there were some frantic how-can-you-let-this-happen conversations beyond my hearing, to everyone's credit, they were very accepting. I was already an adult, of course, and this decision was my own, but I did everything I could to soften the blow and explain that I was not rejecting them by leaving their church. From my perspective, I was moving deeper in accordance with what they taught me in my childhood. My mom told me that she was very proud of me for the decision I made and how I handled it.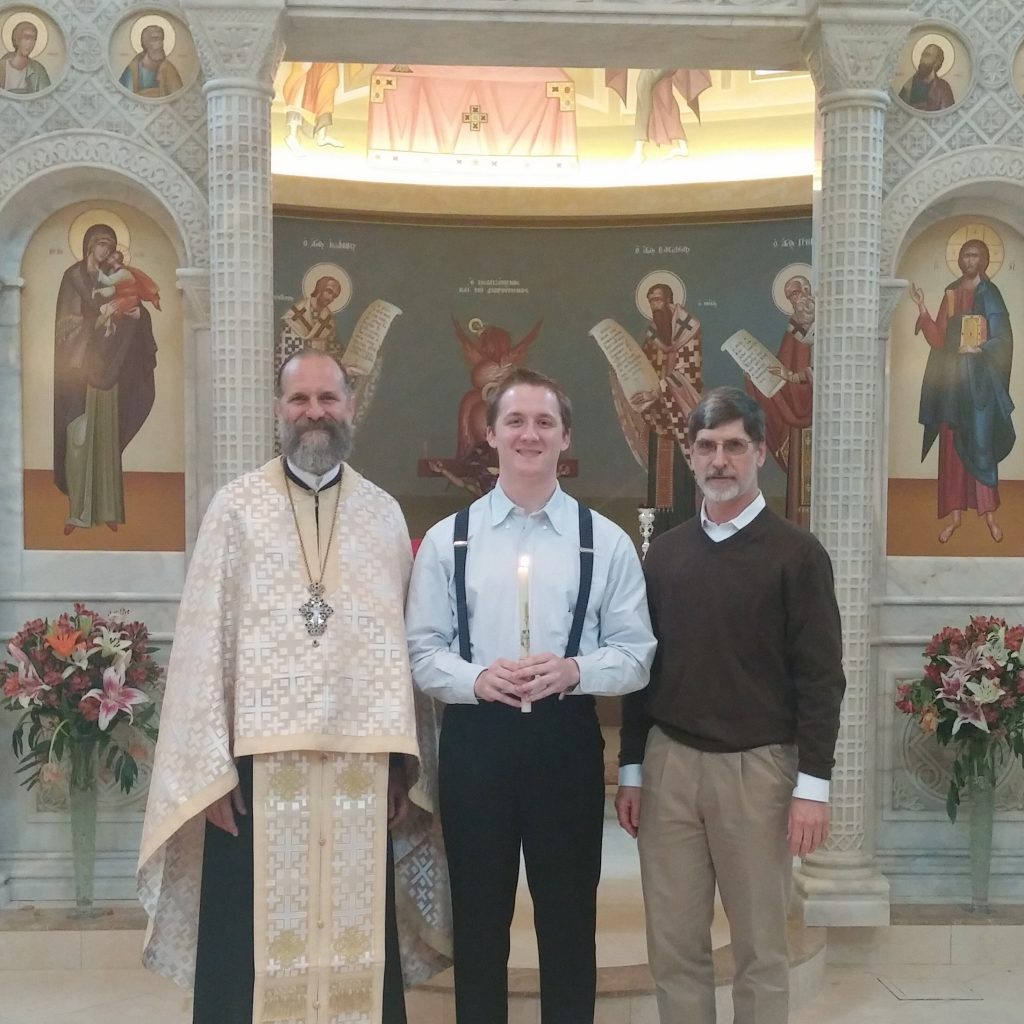 The next year, on March 20, the Sunday of Orthodoxy, I was baptized into the Orthodox Church with James as my sponsor, my godfather. I flew down to South Carolina because it was far easier for me to come to James than for him to come to me. Normally, a baptism wouldn't be so small an affair as mine was with just my mom, dad, sister, James, and my godmother, Carol in attendance. But the church was beautiful, the service was beyond description, and I was never made to feel like an outsider by anyone. I felt brand new when I left that day.
A lot of things changed. I do not doubt that I would still have some friends now that I don't have any longer if I hadn't left Adventism. I have some extended family that mostly avoids the subject of religion with me. One of my relationships suffered and ultimately ended at least in part due to my dramatic change from "something weird" to "something even weirder."
That isn't the whole story, though. I have a rich relationship with God and His Church. I have so many people praying for me at any given moment that it's astonishing. I have more family. I have new friends. I have old friends. My best friend in the world is Adventist and I'm convinced that there is nothing that could stop me from loving him or him from loving me. My brother was recently baptized Orthodox with me—funny enough—standing as his godfather. My family is occasionally baffled by me, but they love and respect me.
I've found that I'm not the only one who has changed. Many of the people I grew up with are no longer SDA. Some are near where I once was—somewhere in between. Some are atheist. Some are non-denominational. I have had conversations with many of my friends in which we shared similar stories about realizing that we didn't feel like ourselves where we were. Not all of them have managed to find the path to being themselves, yet. I truly believe that I am more myself now than I ever have been. I expect to be even more so in the years and eternity to come.
I attended James's funeral earlier this year after cancer ran its course through him. Many of his students were in attendance and it was uplifting amidst my grief to see around me so many lives changed by him. He was a friend, teacher, and mentor and I long for the day I can hear his voice again.
I'll make a small attempt at advice now. Don't ignore your questions or your desire for more. There are answers and there is fullness. I recommend Orthodoxy for both. I wouldn't be here if I hadn't found them.