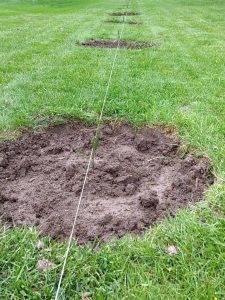 This week was extra productive due to having some extra time off of work.
A while back, I received a mailer from the Arbor Day Foundation offering me 10 Colorado Blue Spruce seedlings and 2 Lilac seedlings for a $10 donation. I am a big fan of lilacs, and so I sent them a check for $10. This week the seedlings arrived, so I spent a day digging and turning 12 3-foot diameter holes and planting my seedlings.
When we moved in last fall, there was a pile of plant debris in the back yard which I assumed was the burn pile. I added to it, then burnt it to the ground. I mentioned to the neighbor how badly located it was, and he told me it was the former owners' garden–not burn pile. Who ever heard of an 8-foot diameter round garden? I moved the burn pile, but still had bare ground in this area until this week. I wheelbarrowed all the sod from the tree-planting here, and had almost enough to cover the bare patch.