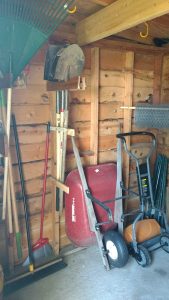 The simplest project I completed this month was to mount my .22 caliber pellet rifle above the door from the kitchen to the back porch. This was in order to make it handy for shooting the rabbits that have been decimating my tomato plants. I went to Ace Hardware and bought 2 brass coat/hat hooks for a total of $10, and mounted them above the door. This has made it much easier to grab the pellet rifle when there is a rabbit in the garden.
Another project had to do with the chickens. We were steadily losing chickens–always during the day–with no sign of what was taking them. I bought some light plastic netting at True Value for a total of $55 and covered the entire pen. A few days later, I saw a black cat outside the pen, apparently foiled by the netting. I shot it with the pellet gun, and we haven't lost a chicken since.
When I originally fenced the chicken pen, I used free welded wire fencing given to me by a friend that had moved. But at the chickens have grown, the space became insufficient, and too-heavy traffic meant that the grass was being destroyed. So when my wife saw several rolls of welded wire fencing and a dozen or so metal stakes on a Facebook buy/sell group for $35, I told her to get it. Using the new fencing, I came close to doubling the area the chickens can roam. Finally, I spent another $16 on another 50 lb bag of chick feed.