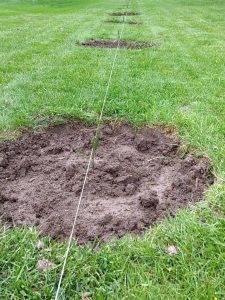 This week was extra productive due to having some extra time off of work.
A while back, I received a mailer from the Arbor Day Foundation offering me 10 Colorado Blue Spruce seedlings and 2 Lilac seedlings for a $10 donation. I am a big fan of lilacs, and so I sent them a check for $10. This week the seedlings arrived, so I spent a day digging and turning 12 3-foot diameter holes and planting my seedlings.
When we moved in last fall, there was a pile of plant debris in the back yard which I assumed was the burn pile. I added to it, then burnt it to the ground. I mentioned to the neighbor how badly located it was, and he told me it was the former owners' garden–not burn pile. Who ever heard of an 8-foot diameter round garden? I moved the burn pile, but still had bare ground in this area until this week. I wheelbarrowed all the sod from the tree-planting here, and had almost enough to cover the bare patch.
It has rained almost all day every day this week, which has made projects less enjoyable, but should help my trees, lilacs, and sod to take root.
The stake that holds our house number sign has been crooked since we bought the house, so I pulled it up and pounded it back in straight.
I put new inner tubes on my wife's bike, both front and back, as neither held air. That turned out to be more time consuming than I thought, because it was not until I had a brand new standard 26″ inner tube installed on the front and found it would also not hold air that I discovered her tires were some weird size* that could only be purchased at a dedicated bike shop–for a cost of $8 an inner tube!
It appears that the trees on my property have never been pruned ever, and I failed to get to them last fall, so I broke out the pole saw and cut out all the dead branches I could reach from the ground, all the watersprouts I could reach, and anything I could reach with about a 3″ diameter or less that needed to go. This fall I'll climb the trees and give them a thorough pruning, but just that was enough to keep my burn pile going for 5-6 hours.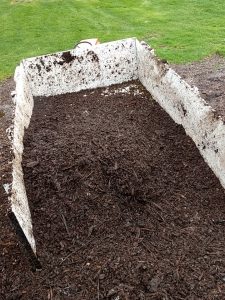 My neighbor kindly loaned me his garden tractor (sadly, no front-end loader) and trailer, and I hauled 5 loads of decomposing wood chips from the local pile. As soon as I took a few shovelfuls from the outer layer of the pile, steam began to rise off of it, made even stronger by the rain. My shovel got a good workout, as did a manure fork that my neighbor loaned me as well. All of these wood chips were dumped on my garden**, which already had a thin layer from last fall, but had some weeds popping up in a few areas. I still need to spread out these piles, but that will wait for next week.
I put in a low fence of chicken wire around the garden, which I hope will keep the larger woodchips on the garden and out of my reel-type lawnmower. It should also help with the rabbit problem, although I'm relying more on the dog and the pellet rifle for that.
Finally, I weed-eated my yard. Last fall I had done the worst stuff in front with a hedge shears, but based on the fact that I'm already due for my fourth mowing of the season I decided that that was not an effective way to spend my time. Since I could not afford a quality gas-powered weed-eater, I bought the cheapest, Wal-Mart brand*** electric one. It cost $20, and if it lasts for two years I'll be happy–hopefully by then I'll be able to buy a good one. However, it did the job fine, about twice as long as a gas model would have taken, but about 4 times faster than using the hedge shears.
Other than the weed-eater, I made a few other purchases this week. First, I bought 2 extension cords for a total of $50, in order to use my $20 weed-eater. Still, I bought good extension cords, and my guess is I will end up using them for many other purposes.
I broke my shovel blade putting in the trees, so I bought a new shovel from Ace Hardware. Their store brand was the best shovel I could find locally with a wood handle, and I hate fiberglass handles, so I bought it. Turned out they had a "buy 1, get 1" promotion, so I picked up a store brand bow rake at no additional cost. I spent $20 on the shovel (and rake). The shovel I broke came with the house, and when my brother stops by with his welder I should be able to return it to use.
Naturally, I also had to purchase the fencing materials for the garden. I purchased 3 50′ rolls of chicken wire, and 16 36″ steel posts. That came to approximately $100. And since I don't have a welder to make my own, I bought a post driver, which I used for the garden fence and the post that holds our house number. That was an additional $35.
Finally, I bought a random-orbital sander. I couldn't afford the $80 for a Milwaukee, or the $60 for a Porter-Cable, so I looked at what was available in my price range. I ended up buying the Wal-Mart brand again, for $20, because it actually seemed to be better made than any of the $30-$40 sanders, all of which were made in China the same as the Wal-Mart brand one was. This is for a project that I've barely started on, and will be featured in a future round-up.
In all, I accomplished a lot, but spent a lot too. In the upcoming weeks I will be trying to complete projects without spending so much on tools and supplies.
---
*700x42c
**I'm testing out the sheetmulch/Back-to-Eden garden, due to having an abundant supply of decomposed wood chips. I'll let you know how it goes.
***"Hyper Tough"