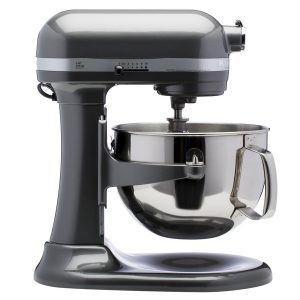 What: Kitchen-Aid Pro 600 Series 6 Quart Bowl-Lift Stand Mixer.
Cost: $330
Purchased From: Costco
This purchase was made a while back, and is essentially a luxury purchase for us. Courtney loves to bake, and often sends bread, bagels, English muffins, and other baked goods with me to work to give away and "sell" for donations. Our main goal here has been to cover the cost of flour and other baking supplies, so that the bread we eat is at no cost to us. While we haven't made much by selling bread/baked goods, we make more than enough to make our own bread free.
Still, Courtney could have continued to knead by hand–it is good exercise, after all. A couple of factors led me to purchase this. First, it was Courtney's birthday, and I knew that she loved this mixer, as her mother has one and she has used it on several occasions. Second, the baby required so much attention, and baking by hand so much work, that if she baked on one day nothing else was likely to get done that day, and nothing was likely to get done the next day other than cleaning up the bread pans, muffin tins, mixing bowls, and other mess from the baking day. I correctly surmised that the mixer would free up essentially an entire day a week for other necessary household chores.
Since we purchased this, I have been happy with the decision. Courtney now bakes a little more often than she did previously, and while she still does baking days where she turns out a number of different products, she can now make a couple loaves of bread if we are low and still accomplish other things. Plus, there was a form that came with the mixer which we filled out and sent in for a free meat-grinder attachment. Finally, it fulfilled my goal of giving Courtney a birthday present that she would like, use often, and keep for a long time.