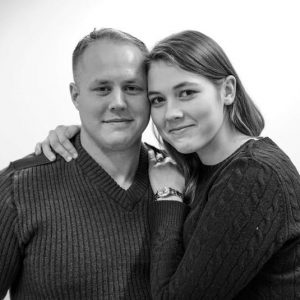 Since this is my personal blog, it seems appropriate to mention the biggest change in my personal life. So, for those of you who don't have Facebook, here is your introduction to Mrs. Wilkinson.
Courtney is from Minnesota, and her and I met this past summer at Camp Wakonda. I met her parents at the end of September, and a week later I asked for permission to marry her. We got engaged on October 16th, surprising many of our friends and family, and then surprised them further at the beginning of December by announcing we had gotten married in a small, private ceremony on December second.
We had decided to keep our wedding and reception separate events for several reasons–not the least of which was the considerations of stress and planning–so our invitations for our reception had the words "We Got Married!" plastered across the top. Some people contacted us wondering if it was all a joke. We assured them that we were quite serious.
Since then we have been getting used to married life and each other's peccadilloes. For example, Mrs. Wilkinson prefers her hash browns served in a state I would characterize as "uncooked," while I prefer my hash browns to be, well, brown. We've also been going over finances and the other parts of our lives that have been separate and bringing them together.
It's been good.
We know that there will be challenges, but we intend to meet them together, with God's help.