My first project completed in August was mulching the trees and lilacs I planted earlier in the summer, and putting ashes around the spruces. 2 of the 10 spruces died, but thankfully it was the ones at either end of the line, so they are all still evenly spaced. At St. Vincent's, I found a well-built older, wooden child-size rocking chair, which I bought for my son at a cost of $12.
On my list of major purchases to make for quite awhile has been some sort of pantry for my wife's kitchen. I found an old entertainment center on the side of the road, and it has become our new pantry. I spent $7 on a bottle of Old English scratch cover, and $50 on two galvanized steel buckets that each hold 50lbs of flour and fit nicely in the bottom of the pantry. While I was at the hardware store for the buckets, I also bought a flyswatter for $2 and a new dustpan for $8.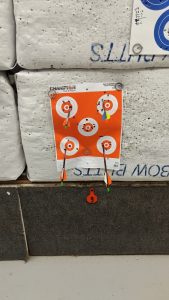 Using caulk I already had on hand, I caulked up a number of cracks in my garden shed that were letting in water. Since then, the building seems to be watertight. I picked up a pile of wood that someone had set out at the curb, which included 5 9-foot-plus 4×4 posts. More on those later. I dug up a Mulberry tree that was right next to the house, and moved it to where one of the spruces had died. Unfortunately, in doing so I had to cut the taproot. Since Mulberrys can grow from a cutting, I'm hoping it will survive, but that remains to be seen.
I spent $5 on a miniature Ikon set from church, and $115 dollars joining my local conservation club. I then used that membership to get my bow and muzzleloader roughly sighted in. I also spent $10 on my bowhunting license.
I bought a post-hole digger ($30), 12″ bastard mill file ($12), and a file handle ($8) at Ace Hardware. I then got a 150′ roll of 6′ high chicken wire from True Value for $45, and fenced in my garden with the new fencing, thanks to the free 4×4's. Since I had to order the chicken wire online, I also ordered a 50lb bag of chick feed for $16, a 5lb bag of mealworms for $40, and a 20lb scratch block for $12. Although I didn't order it, I also bought a new cap for one of my septic vents at True Value for $14, because I hit the old one with the lawnmower.
At a garage sale I picked up a nice, well built wooden high chair for $15, and at a separate garage sale I bought a pair of Brooks running shoes that appear brand new for $5. Along the side of the road I picked up an electric fireplace with a nice wooden cabinet. The fake fire doesn't work, but it does blow out heat, and it looks nice in the living room. Someday I'll have a real fireplace. I put away the window A/C units we had been using, and I found a dishwasher by the side of the road. The one in our house had never worked, but with the aid of a $5 part from True Value, I gave the wife a way to catch up if the pile of dishes gets too big to manage with the sink.
In all, I spent $420 on projects and purchases in August. This is $120 over my $300 budget. However, I was $70 over my budget in July, so I ended up a total of $190 over budget. Because the pantry was on my major purchase list, and I had $100 budgeted for it, I moved that $100 dollars to my project and purchase budget, and ended up $90 over budget. This leaves me with a $210 project and purchase budget for September.