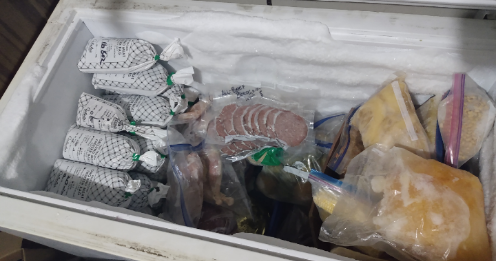 The first thing to consider is what you will be putting in the freezer. Do you plan to buy a whole (or half) beef once a year? Or do you plan to fill the freezer with venison in the fall? If either of these is the case you should consider buying two smaller freezers, rather than one large one. For example, I have a just over 9 cubic foot freezer, which I fill with venison every fall. We really need a bit more freezer space, because the kids are getting older and it takes more venison to last a year, but you can fit 4-5 good size deer in a 9 cubic foot freezer if you debone all your meat and have nothing else in the freezer. This equates to about half a beef. However, if I was to do it again, with a plan to either buy half a beef a year or shoot 4-5 deer a year, I would buy a 3 cubic foot freezer and a 7 cubic foot freezer instead of a 9 cubic foot freezer.
Having two smaller freezers would substantially reduce the energy cost of running the freezers. Freezers are most efficient when full, which is why many people recommend that you add jugs of water to the freezer as it empties. We would eat out of the smaller one until it was mostly empty, then move the remainder to the fridge freezer inside and shut off the smaller freezer. Then, we would eat out the larger freezer until it was about half empty, at which point we would shut off the larger freezer and move the remainder of the meat into the smaller freezer. This would be much more efficient than the current situation, in which our freezer is half or more empty for half the year.
Another thing to consider is how much variety there is in what you will be filling the freezer with. Are you buying a whole or half beef once a year, or filling your freezer entirely with venison? Or are you buying a quarter cow once a year, plus butchering 50 chickens and 15 turkeys, plus hunting for deer, duck, pheasant, and goose? If you are closer to the second situation than the first, you are likely to find that every time you go to the freezer to grab something, its underneath a bunch of other stuff. The solution in this case is to get an upright freezer and a chest freezer. Upright freezers are far less efficient than chest freezers, but they are very good at keeping multiple things separate and organized. You can have a beef shelf, a venison shelf, a chicken shelf, a duck shelf, etc. When a shelf gets empty, you can reload it from the chest freezer. This will greatly reduce the time you spend digging through the chest freezer, which often involves taking quite a bit of food out of the freezer and then putting it back in.
Often, you can pick chest freezers up for a good price on craigslist. However, if you decide to buy new, try to look at a few different brands. Figure out what you will use to keep things organized inside. I like milk crates. I can pull out the milk crate of ground venison quickly and easily to access the milk crate of roasts underneath. Also, when the freezer is getting empty, a milk crate holds 1 gallon milk jugs perfectly. You can refill these jugs with water and place them in the freezer to take up space and help the freezer run efficiently. However, some brands and sizes of chest freezer won't fit milk crates. Find a brand that fits a convenient stackable storage container, because the last thing you want is everything loose in the freezer.