I know, I'm late in getting this out. Other than the muzzleloading rife I've already posted about, I made two other major purchases this week–posts for them are forthcoming. None of the major purchases, including the muzzleloader, were planned for this week. However, all three of them were things that have been on my list of things to buy for months.
When I put something on my list to buy, I put down a budget for that item, usually the lowest retail price I can find. Then I wait and save money for that purchase, possibly buying higher-priority items from the list first. All three major purchases this week were made because I had the chance to get the item significantly under the budget I had set. I spent a total of $520 on major purchases this week, which is a very large sum for me. However, I had budgeted $750 on my list for these three items.
Other than the three major purchases, I bought 4 items this week. The first was Organic Amish Paste Tomato seeds. I purchased these on Amazon, and paid $7 for a packet of 50 seeds and shipping. I also purchased a can each of Rust-Oleum spray primer and spray paint, for a project I'll describe in a bit. The paint and primer was bought at True-Value, and cost $6 a can for a total of $12. While I was at the True-Value getting the paint, I noticed that they had store brand True-Temper wooden handled square headed shovels on sale for $10. I have had a square-head shovel on my list for a while, with a budget of $25, so I picked one up. In total, I spend $29 this week on items other than the three major purchases.
My first project of the week was to clean out my garden shed. The people we bought the house from left a lot of things in the shed. Some of it was useful, like the wheelbarrow that only needed a new tire, or the perfectly functional pole saw. But a lot of it was just plain junk, and there was a lot of dirt and cobwebs in the shed as well. I threw away the junk, moved the chemicals that I wont use but can't throw away to the garage until I can figure out where to dispose of them, swept the whole thing out, and organized my tools. I badly need to caulk the gaps in the wood siding, so don't be surprised if that shows up in next weeks project roundup.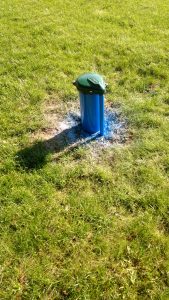 My next project was to fix my back deck. Our house has a 40′ long deck along the back of the house that for some reason was originally shot into the foundation with a powder nailer. When we bought the house, about 30′ of the deck had pulled away from the foundation and sunk to rest on the ground. I jacked it up section by section with my hydraulic car jack, and installed 4 concrete anchors between every 2 stringers rather than the one shot-in nail that had originally been between every 2 stringers. The stringers are on 16″ centers, so I wore out both my arms and the battery for my cordless hammer drill before I was done, and had to save the last 10′ or so for the next day.
My final project for the week was my well-head. The casing (but not the cap) was peeling paint badly and showing significant rust. I sanded it down to bare metal, gave it two coats of Rust-Oleum spray primer, and then painted it with Rust-Oleum spray paint. The finished product looks far better than it did previously, but somehow I lost the "before" picture that I thought I took, so you'll have to take my word for it.