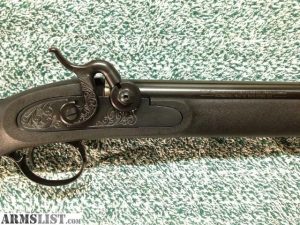 What: Thompson/Center Firestorm Muzzleloading Rifle
Cost: $150
Purchased From: Local Retailer
I did not plan on buying a muzzleloader this week, but I stopped in at a local retailer to buy my fishing license, and saw two muzzleloaders in the rack marked at $150 each. When I saw that they were Thompson/Centers, I bought one, because I have never heard of them making a gun that wasn't quality.
Turns out that the rifle had a MSRP of $567 in 2011, according to a write up in American Rifleman. It seems like the rifle went out of production several years ago, explaining the clearance pricing. Anyhow, on getting home I found out a few things that made me happier with the purchase. First, despite the traditional styling, the rifle uses 209 primers rather than #11 caps for ignition. Second, the barrel has a removable breech plug, which will make cleaning a breeze. Third, disassembly is a snap, and it looks like it should be fairly easy to carve a wooden replacement stock, which will make this rifle look even better.
Prior to this purchase, the only weapon I owned that I could legally harvest deer with in my state was my bow. In my state a muzzleloader can be used to harvest deer in both the muzzleloading season, and the regular gun deer season. Therefore, a muzzleloader has been on my list of things to buy sometime before fall for a while. Seeing a Thompson/Center for $150 just made me cross it off my list a little sooner.